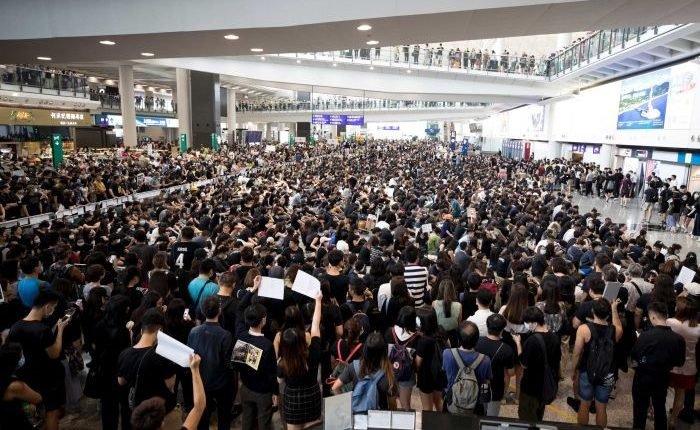 Hong Kong Airport Cancels All Flights for Today by Protest. Today, flights will no longer depart from Hong Kong International Airport.
The management took that decision after the airport was again destroyed by massive protest. That is already entering its tenth week and is becoming increasingly grim.
This morning, demonstrators once again flocked to Chek Lap Kok airport in Hong Kong. According to the management, it concerns 5,000 demonstrators. The access roads by rail or road also seem to be blocked.
The reason for the protest is the anger about the police violence of the past weekend, in which a girl has lost an eye. Social media shows how the police shoot with rubber bullets at a short distance and how tear gas shells are fired inside a metro station.
The airport management has decided this morning that all flights for which the passengers had not yet checked in will be cancelled for the rest of the day. Those who were checked in earlier can still leave.
Incoming flights can still land. The management hopes that the airport can be reopened at six tomorrow morning – that is at midnight here – but that is not certain.
Earlier there was also protest at the airport, but then the departing flights were usually not bothered. The action can have significant consequences; Hong Kong is the third-largest airport in the Far East after Beijing and Tokyo and serves connections to more than 180 cities.
Just under 70 million passengers fly to and from Hong Kong every year. It is an essential hub for air traffic in East Asia, also for freight transport.
Also striking: Taiwan is willing to grant asylum to people from Hong Kong who are at risk of being prosecuted.
Thirty or so Hong Kongers have already arrived in Taiwan since the beginning of the protest. On that island that also feels threatened by China, there is a lot of sympathy for the protest in the former British colony.