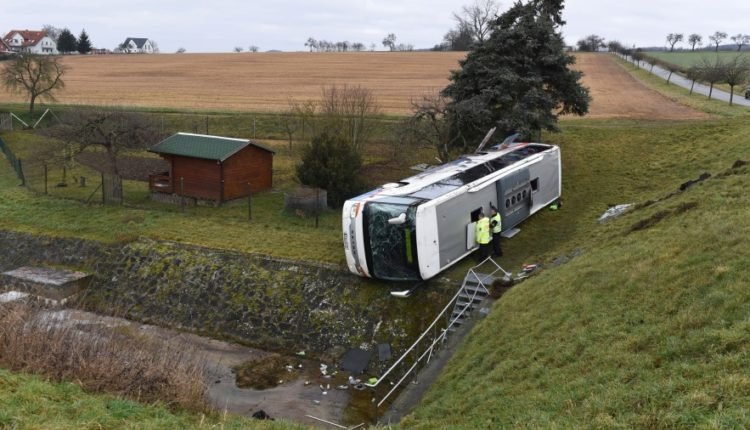 In a severe accident with a school bus in the German state of Thuringia, a girl and a boy of eight years were killed. Five children were seriously injured and 15 others were slightly wounded.
The bus driver is also injured, confirms Bodo Ramelow, Prime Minister of the Land of Thuringia, on Twitter. "I sympathise intensely with the parents and relatives of the deceased school children."
A school bus with dozens of children crashed around 7:30 am in a meadow in Eisenach, a town in the centre of Germany. The driver was on his way to a primary school in Berka when he lost control and got off the road. The vehicle crashed down a hill, tipped over and landed on the side.
The police suspect that smoothness was the only cause. There are no indications that something was wrong with the vehicle or that the driver made mistakes.
More than twenty children were injured, two of whom have since died. The driver was also taken to the hospital with unknown injuries. It is not clear how he stands. All parents of the children have been informed by the German authorities and are taken care of by crisis teams, German media write.
Helmut Holter, Minister of Education, has now arrived at the school and Georg Maier, Minister of the Interior, has also arrived at the crash site to provide support wherever possible.
Coincidentally, there was another bus accident in Germany around the same time, involving students. In Upper Bavaria, near Munich, a driver also lost control and crashed into a tree at a decent speed. Nine children were injured. The driver was taken to the hospital with serious injuries.